"What are the six things you MUST do
and the one thing you should NEVER do before you get under the bar or take the field
to achieve a personal record performance?"
Two experts join forces, bringing you the answers to raise your performance and prevent injuries for the best upper body training you've ever had.
Dear Fellow Athlete,
Have you ever heard that expression, "An ounce of prevention is worth a pound of cure"?
How about "Proper preparation prevents piss-poor performance"?
A quick look around most gyms or athletic fields will tell you that most lifters or athletes have either never heard those expressions, or they've simply decided to ignore them.
Ever watch someone "warm-up" before a heavy bench press training session? In most cases, it consists of a couple quick shoulder stretches, and then they lay back on the bench to start their specific warm-up of progressive sets usually starting with 135 on the bar.
Or what about the baseball pitcher or football quarterback who simply grabs a ball and starts throwing?
We're here to tell you that they're doing it wrong! In fact, this approach will not only lower your performance, but given enough training time, will most likely result in some sort of chronic, nagging injury. It's almost like a badge of honor to compare a laundry list of strains, sprains and aches with fellow lifters and athletes, with each guy trying to one-up the other as to whose is worse, or worse yet they're still there banging away at the weights and throwing while ignoring the ever increasing pain.
There's a better way to prepare for your best upper body training sessions AND reduce the likelihood of developing those annoying training-related injuries that cost you valuable training time, affect your daily activities, and prevent you from achieving your most important performance goals.
It's called Inside-Out: The Ultimate
Upper Body Warm-up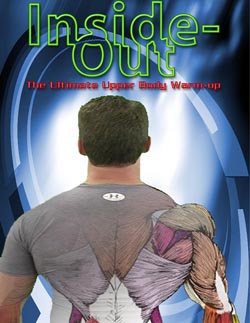 And it's your guide to
Ultimate Upper Body Performance
Watch a one-minute trailer from the DVD!